I was born into a world of art. My father, an architect and a sculptor, designed my childhood home - so I quite literally grew up surrounded by his creativity. Although my given name is Rona, he only ever referred to me by my nickname, Ponie. It seemed fitting then, to sign my work by this name – a gesture of gratitude to my father for instilling in me a love of art that has nourished me ever since I can remember.
I grew up in Montreal, Canada but went to Brandeis University in Boston as a theatre major. That was where I first learned about unspoken communication – how facial expression, clothes and gesture could telegraph better than words. I did a stint as a mime, but that is an embarrassing story for another time. Suffice it to say, it was a good primer for my artwork to come.
Upon graduation, I came to New York as a graduate student at Pratt Institute for design where I got my masters in communication arts. It led me to a 30-year career as a creative director in advertising – an industry very much reliant on observing human behavior.  With unintended consequences, the hundreds of focus groups I attended, where I listened to consumers from every corner of the country, informed many of the characters who populate my work.
Recently, I have been inspired by both the brave and absurd characters we read about every day in the news - especially the many who are left undepicted. Their stories move me and I have begun to give them a home in my work. By juxtaposing them with my characters, I hope to shed light on their struggles and triumphs while still retaining a much needed sense of humor.
Ponie O began her artistic career in 1989 where she was represented by gallerist Steve Feinman of Multiple Impressions gallery in Soho, New York. Over the course of two years, she had two solo shows in both New York and Providence, Rhode Island. During that time, her work was sold all over the world, including the UK, Canada and Japan. In 1991, Ponie O put her art on hold to concentrate full time on her career as a creative director at McCann Erickson and later at J Walter Thompson. In 2018, after a 30 year hiatus, Ponie O returned to her art exhibiting new works at the Clio art fair in NY, the Alive Inside gallery show in the lower east side of Manhattan, Art Aspen in Colorado as well as the SOFA show (sculpture objects, functional art and design) in Chicago.
During her 30-year career in advertising, Ponie O (aka Rona Oberman) was awarded the Cannes Lion, the Art Director's award, the Kelly award, three Effies, and the London International Advertising award.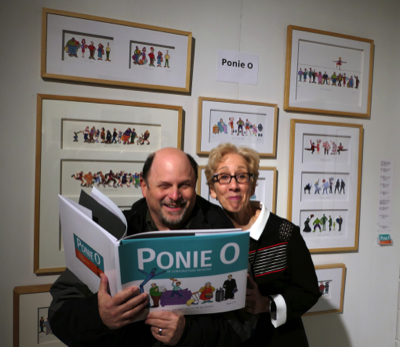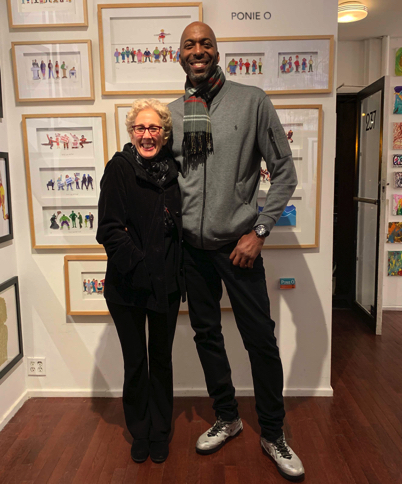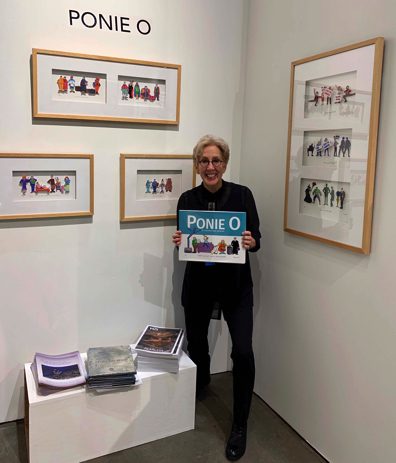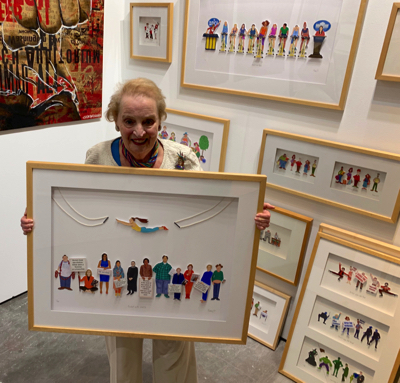 CLOCKWISE STARTING ON THE LEFT:
WITH NBA STAR, JOHN SALLEY AT THE ALIVE INSIDE POP-UP GALLERY SHOW IN MANHATTAN.
WITH JASON ALEXANDER AT THE CLIO ART FAIR IN NEW YORK.
AT THE SOFA ART FAIR IN CHICAGO.
MADELEINE ALBRIGHT HOLDING MY PIECE AT ART ASPEN.